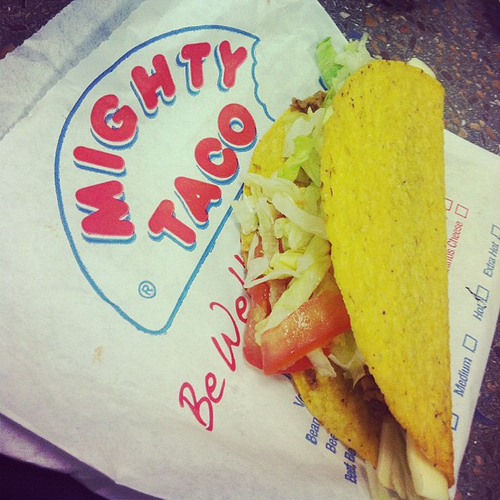 Rochester foodies were all abuzz with the coming of Buffalo favorite Mighty Taco. The news has been reporting on it's arrival for over a year. It finally opened this week so Aaron and I decided to try it out. The line was out the door! We didn't have enough time so we resorted to Chipotle (not a bad alternative mind you).
Yesterday we decided to give it another go. The line was still long but at least we weren't standing outside. We had about a 15 minute wait even days after the grand opening.
It was good but I can't pinpoint why. There were some surprises. The cheese in the taco was basically a Kraft single. The fajitas are more like a soft taco - filled with meat, lettuce and tomato. The roastita was more what i expected in a fajita - meat, peppers and onions. Other than that... they were just typical tacos... just really, really good tacos.