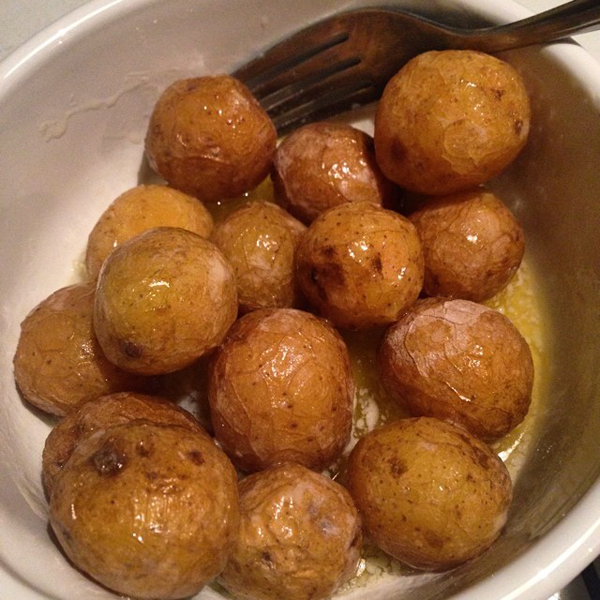 I love discovering regional food and when I was introduced to salt potatoes upon arriving in Rochester I thought, "How can I have not had these before?" I am a big potato fan so this really seemed like an injustice.
My friend Steve Garfield recently instagrammed a bag of Hinerwadel's salt potatoes which got me hungry for them and thinking about their origins.
Most sources agree that salt potatoes originated in Syracuse, NY where there is a history of salt being produced from boiling water from marshes. Starting in the late 1800's, Irish salt miners in the area would bring a bag of potatoes to work for their lunch and boil them in the readily available salt.
In 1914 John Hinerwadel began to offer salt potatoes at his famous clam bakes. Not long after that he was selling 5lb bags of potatoes packaged with 12oz of salt calling them Hinerwadel's Famous Original Salt Potatoes. In fact in May, Hinerwadel's celebrated 100 years of salt potatoes in Syracuse.
Wegmans carries their own brand of salt potatoes too.
Just what makes up a salt potato? You start with small new potatoes and boil them using 6 cups of water to 1 cup of salt. Drain off the water and serve them doused with melted butter.
It might not sound that special but the salt water causes the water to boil at a higher temperature and the starch cooks more completely resulting in extra creamy potatoes. The outside skin gets crusty and goes well with melted butter.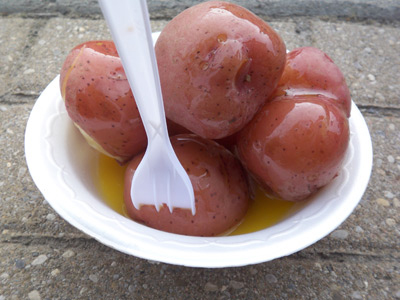 SALT POTATOES
4lbs of small baby potatoes • 1 cup of salt • 6 cups of water • 1 stick of unsalted butter
Add potatoes, water and salt in a pot and cover. Bring to a boil over high heat. Reduce heat to medium and simmer for half an hour. Drain the water from the potatoes and pour melted butter over them. Serve and enjoy.