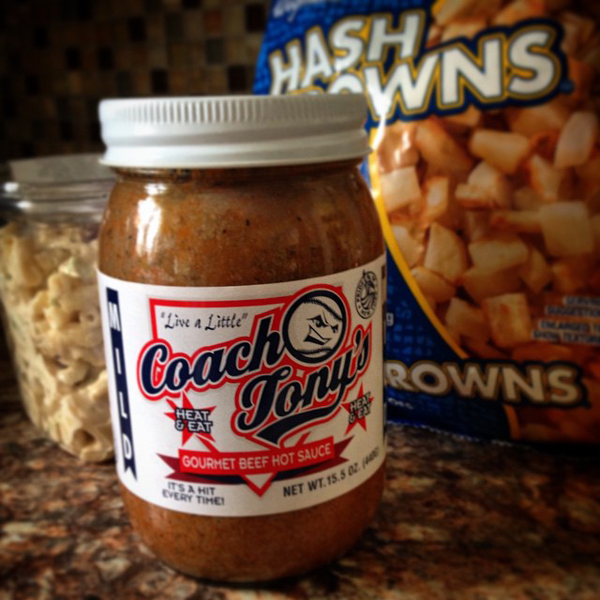 We were planning on staying in for the Super Bowl this year and I was pre-occupied with what food to make. I love party food, snack food, nibbles. I poured over Pinterest looking for the perfect selection of recipes. Then it hit me. The perfect Super Bowl food is Rocheter's own GARBAGE PLATE.
The Garbage Plate started out in 1918 at a restuarant called Hots and Potatoes owned by Alexander Tahou. (Hots being what Rochestarians sometimes call hot dogs) It was a dish of meat and potatoes. Alexander's son, Nick, took over the restaurant and renamed the dish, Garbage Plate. It's the crowning glory of the establishment now known as Nick Tahous.
The garbage plate has evolved over time but the standard is made up of home fries, mac salad, a burger and/or red hot (hot dog), hot sauce, onions, ketchup, and mustard. There are variations involving baked beans, eggs or steak, but the standard is my favorite. Other restaurants have their versions with alternate names like "rubbish plate" or "trash plate". A garbage plate is easy enough to make at home except for the "hot sauce". Hot sauce in Rochester doesn't mean Frank's Red Hot or Tabasco. Hot sauce in Rochester means a sort of thin chili-like burger sauce.
There are recipes for hot sauce online of course... I've made it myself with moderate success in the past. But you know what is even easier? Cracking open a jar of Coach Tony's Hot Sauce. I mean... if you are going to eat badly, how hard to you want to work at it?
Some Wegmans frozen hash browns, Wegman deli mac salad and a jar of Coach Tony's... tahdah... homemade garbage plate. Perfect Super Bowl food.