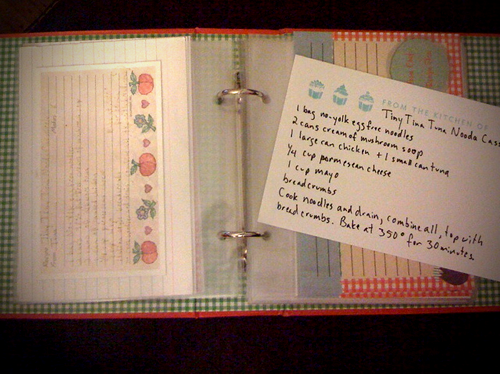 Last week I went to make Tina's Tuna Noodle Casserole when I couldn't find the recipe. In fact I couldn't remember seeing it since we moved. I called her in a panic and she couldn't find her copy either! After tearing the house apart I found the recipe attached to a corkboard we had hanging in the old kitchen and hadn't put back up. It had faded terribly and I could hardly read it.
This week Tina called me for the recipe! Clearly we need this recipe in an easily accessable spot. My blog. So next time I want to make it I can do what I usually do when I want to make one of my favorite recipes... I google my own blog.
The secret to this recipe is that it is actually more chicken than tuna. Not as fishy.
Tiny Tina's Tuna Nooda Casserole - I have no idea how we came up with the name but it's fun to say
1 bag no-yolk egg free noodles
2 cans mushroom soup
1 large can of chicken
1 small can of tuna
1/4 cup grated parmesean cheese
1 cup mayonaise
breadcrumbs
Cook noodles and drain. Combine everything and spread in a casserole dish. Top with breadcrumbs. Bake at 350 degrees for 30 minutes.
How we could forget such a simple recipe is beyond me but there you go. It is really easy and soooo good. It's one of those things I start picking at before it even goes in the oven and then I keep scooping "just one more" forkful out of the casserole dish.