Oh what green eyes you have! I'm pretty sure a pink nose means a warm heart also!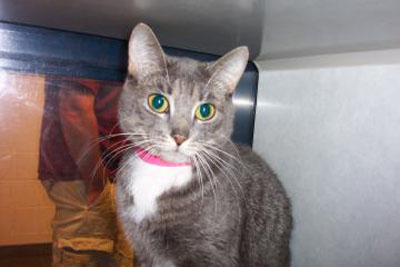 Raja is a 4-year-old female cat with a lovely grey and white tiger coat. She has beautiful green eyes that she uses to lure you in for some love and attention. She enjoys being petted and shows her appreciation with lots of purrs. When she isn't being lavished with attention she loves to play with toys. She's a quiet girl who knows how to entertain herself and stay out of trouble. Raja has been at Lollypop Farm more than once through no fault of her own. Won't you consider giving this sweet, deserving girl a warm spot to curl up and a place in your heart to call home? Raja can't wait to meet you!
Mojo, the iguana from last week is still waiting to be adopted.