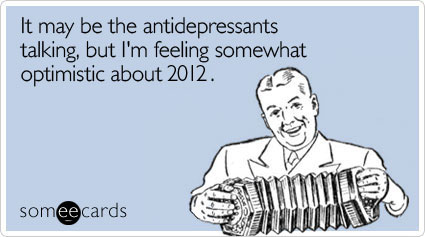 I can't say 2011 tops my list of favorite years. And that is saying something because 2010 wasn't stupendous either.
2010 we lost my Grandpa, many friends lost grandparents actually... then 2011 Aaron was gone for over half the year.
I have high hopes for 2012 though. Tina posted this ecard to Facebook and I agree wholeheartedly.
2012 will be the year of fresh starts and new beginnings. I can just feel it.
See you later 2011... don't let the door hit you on the way out tonight.