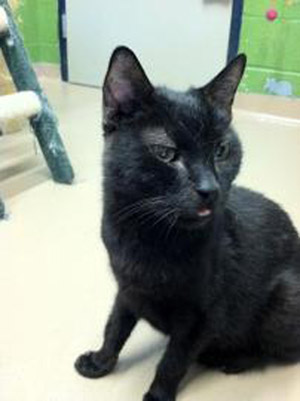 Maybe he would bring you a little bit of luck for 2012.

Lucky is a twelve-year-old purebred male Domestic shorthair who was part of a Lollypop Farm cruelty investigation in Riga, New York. He is finally able, after one year, to look for a warm, comfortable forever home. Lucky is a beautiful black kitty who, being a bit set in his ways, likes to view the world on his own four paws. He enjoys being petted, but if you please, he'd rather not be picked up. That makes him a little anxious. This handsome guy is a mellow boy who is looking for a home where he can spend his retirement years. And, Lucky is eligible for Lollypop Farm's Seniors-for-Seniors program. An approved adopter, age 60 or older, can bring him home at no charge. Lucky has been waiting so very long. Come and meet him today!
Beethoven, the dog from last week, is still waiting for a home.