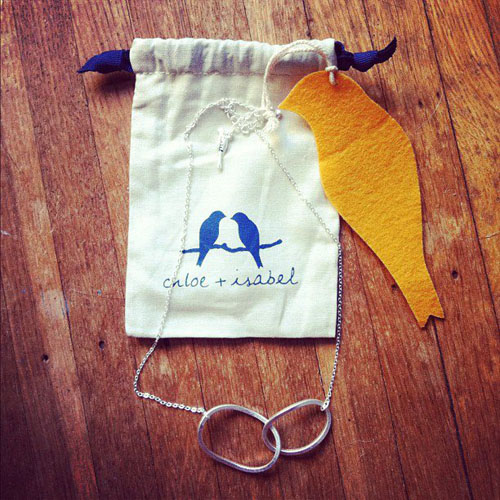 A couple weeks ago I got a Klout perk for a discount on Chloe + Isabel jewelry. Typically I don't pay much attention to the perks that are just discounts but I decided to take a look at their online store.
Some things were pricey but there were also more reasonably priced items and with my discount in hand, I couldn't pass up this necklace. It's so simple but unique and goes with anything.
I like the necklace but what I really loved was the experience. The necklace came in a really cute canvas bag stamped with the adorable Chloe + Isabel birds logo. Tied to the necklace was an orange felt bird. Note that even the clasp on the necklace has a tiny metal bird attached. Such good attention to detail!
I have my favorite local shops for jewelry (FAHSYE!) but if I had to get a gift that would be shipped to a friend out of town on short notice the presentation chloe + isabel provide makes them a great alternative!