I have a love hate relationship with video. I love sharing and watching videos I have shot, edited and uploaded. But of all content creation, it takes the most time and work.
I also enjoy watching good videos. Cute animal videos like these puppies in pj's or sleepy bunnies. Funny videos like guilty dog or engineers and cats. Or amazing videos like octupus camouflage . But it has to be a really intriguing video to make me give up time to watch it. I get aggrivated when there is informaion I need, like how to fix something, and it seems "buried" in a video. Often times I just want to see a picture because I can look at it and be on my way with minimal time commitment. Video? I have to find my headhphones and plug them in! And if that video goes beyond 3 minutes... well. that is just too long.
When Vine came out in January, 2013 I sort of shrugged it off. Well, I signed up to get my username, but didn't use it. Video was so much work. And I didn't have time to watch it. Then one day, I think we were at a charity walk, and Tina shot one. It seemed pretty easy and quick so I did one. It WAS easy and quick. I was hooked. I was Vine-ing videos everyday. The pugs were the perfect subjects. I started using it for work too.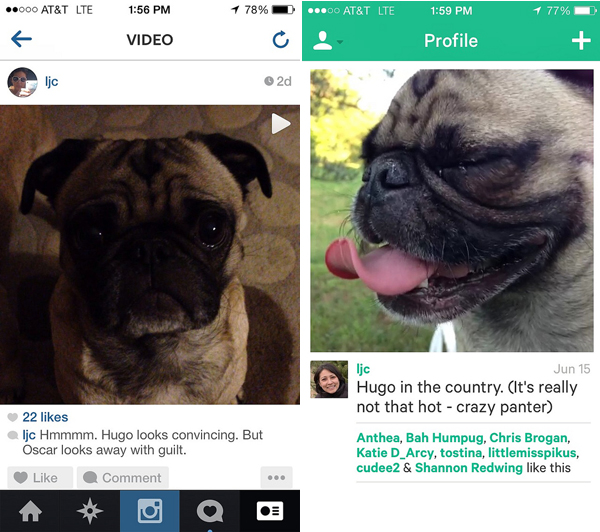 Then in June, Instagram rolled out video capability. I stopped using Vine. Intagram had a few nice different features, like being able to bring in video you already shot and adding filters. Here is a pretty good breakdown of those features. But that wasn't why I switched. Number one, I had more followers on Instagram. Number two... I didn't want to maintain a second app for video.
I felt badly for Vine. They came up with an easy to use, fun, successful app and someone came along and copped it. Luckily, Vine hasn't died off since Instagram started video, in fact they say they have gained 27 million users since then.
I haven't opened Vine in months. But I'm also not posting a lot of videos on Instagram. Did Vine force me to THINK video? What do you use?