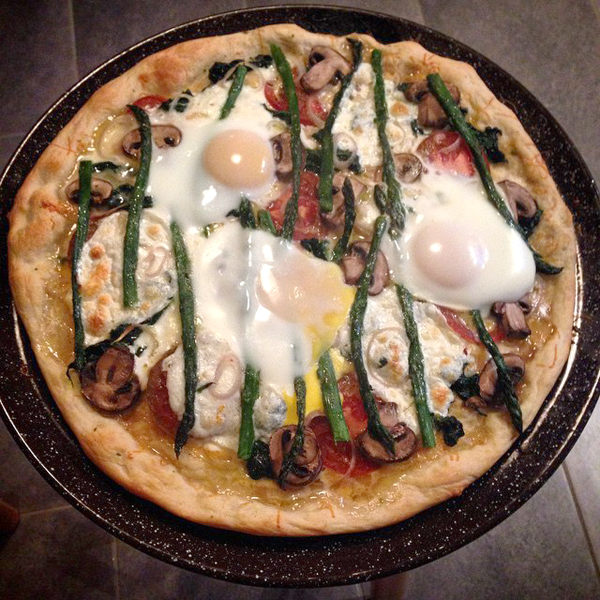 The other night we decided to make a "fancy pizza". Somewhere I saw a pizza with eggs on top and wanted to give it a try. When I googled "egg on pizza" I found recipes for "mushroom and egg pizza", "asparagus and egg pizza", "spinach and egg pizzza", and more. I figured, why not add it all?!
We started with Wegman's pre-made pizza dough. I had enough to think about with all the veggies than to worry about the dough. To start, we coated the dough with Wegmans Basting Oil (Grapeseed Oil, Canola Oil, Dried Thyme, Dried Parsley, and Garlic - in case you don't have a Wegmans near you) and a drizzle of truffle oil.
Then I added: steamed spinach (with water squeezed out), tomatoe slices, gouda cheese, mozzerella, mushrooms, and steamed asparagus. This went into the oven at 400 degree for about 7 or 8 minutes. I kept checking it to see how the crust was doing. I slid the pizza out, cracked three eggs onto it and baked it another 3 to 4 minutes.
It was delicious but it drives me crazy that the one egg yolk broke.