I actually like the name Brando. I can see him sitting in a window sill saying "I coulda been a contenda!"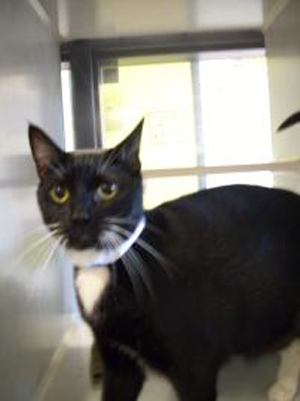 Brando #11188967
The people here at Lollypop Farm call this guy Lovebug, but his real name is Brando. This 5-year-old male cat has a sleek black fur coat, with some white spots to accent his paws and chest. The white on his back paws makes it look like he's wearing boots! Brando was brought to Lollypop Farm as a stray. His front paws have been declawed, so he's looking for a new home where he can be an inside only cat. He loves to quietly curl up and nuzzle next to you, although you might find that he's not quite comfortable being held. As one of our Featured Felines (Black Cats) this week, Brando can be yours for just $25 now through Sunday. Please adopt this sweet boy and let him be your Lovebug!
Momma Mia, the dog from last week, is still available for adoption.