If Rogue is like another kitty I know he would make an excellent addition to any home office as a paper wieght. "Oh is that a pile of paper work? How about I lay on it?"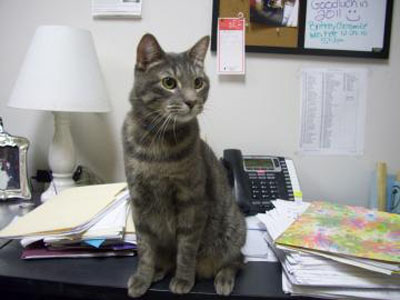 Meet Rogue, a 1.5 year old male tiger cat. He was brought to Lollypop Farm in November because his owners felt they weren't giving him the time and attention that he deserves. This lucky boy is living it up in an office here at Lollypop Farm. He's been very helpful putting files away, keeping a watchful eye on the comings and goings of people outside his office, and by keeping the chair warm for his office mate while they are gone. Rogue is very vocal, especially when he's hungry or wants attention. He was introduced to a dog and cat and didn't seem to mind them at all. He would do best in a home with older children because he's very adventurous and doesn't like to sit in one place for long…unless it's a fort that he made out of a blanket! Come meet Rogue today!
Billy, the dog from last week, is still waiting to be adopted.