It would be so nice if when the snow has melted and it's time to romp in the grass if Nikki had a home and a backyard to do it in!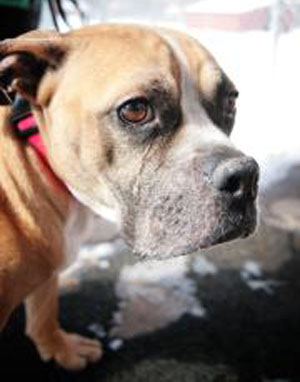 Nikki is a 3-year-old Bulldog/Pit Bull mix who weighs 46 pounds. She was rescued by our Law Enforcement officers in October because she was not being treated properly. Nikki had a rough start in life, so she is a little unsure of new situations and takes her time getting to know new people. She enjoys her space, so a home with children over the age of 12 is recommended. This sweet girl needs a patient adopted who will take the time to help her regain her confidence. If you are interested in meeting Nikki bring out the whole family to meet her, including any dogs in the household to make sure they'll be buddies! Please consider giving this deserving girl a warm home to call her own!
Ginger, the cat from last week, is still waiting to be adopted.