What a great name for a dog in Rochester! She is probably lean enough to call Genny Lite.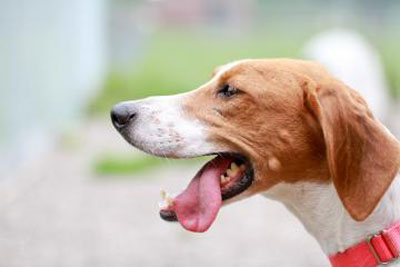 Genny is a 3.5-year-old female American Foxhound mix who weighs 52 pounds. This sweetie came to Lollypop Farm because her family had too many pets and didn't feel she was getting the attention she deserves. Her tail thumps out quite a beat on the kennel walls and she has a smile for anyone who will stop by to say hello. Genny is your typical hound with long graceful legs, a beautiful face and wonderfully expressive ears! Genny has lived most of her life outside. She is eager to please and looks forward to adjusting to the comforts of being an inside dog! A home with children over the age of 6 is recommended, due to the fact that she has never lived with children. She'd also prefer a home with no cats or small animals. Come out and meet Genny today…she can't wait to become a member of your family!
Wedge, the cat from last week is still waiting to be adopted.