There has been talk for awhile now that blogs are on the decline. I can see how Facebook and Twitter might be taking some of the traffic... and perhaps the adoption rate has plateaued... even though it seems like there are an awful lot of Tumblr sites out there.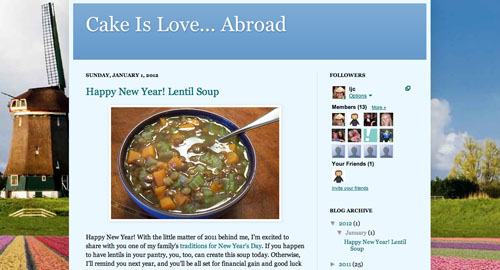 It is true that I don't add very many new blogs to my RSS reader. I don't know if that is due to there being fewer new blogs or if I am more selective with my shrinking amount of time to read blogs.
Once in awhile I find one that I just have to add... but even rarer is it someone I know. I was very excited to see my friend Meredith, who is living in the Netherlands start a blog, Cake is Love. She is an inspiring baker/cook and an entertaining writer.
Her posts are amusing and the food photos drool-worthy. I feel like she is so much closer now with this little peek into her life! That is why I still love blogs!