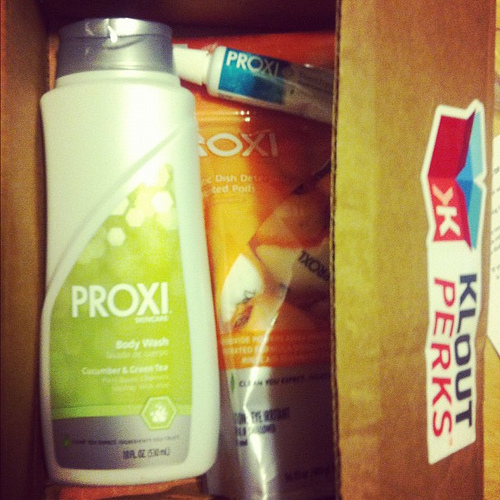 Here is a review of a product I got as a Klout Perk pretty early on. It was a selection of Proxi products.
I started using the dishwasher tablets right away but had other body washes to finish up before I wanted to open up the Proxi one. There was also toothpaste... but I am dedicated to my current toothpaste, so Aaron used it instead.
As you might have guessed, Proxi products have hydrogen peroxide in them. They make dental, personal and home care products. The hydrogen peroxide helps clean and breaks down to just oxygen and water. Very green and sustainable.
Dishwasher tablets - these work great! Especially considering our dishwasher doesn't work great. There isn't any additional scent which I like. They get the dishes clean and don't leave any weird film or residue.
Body wash - the cucumber and green tea wasn't my favorite scent... I like fruity fragrances for my bath products, but it wasn't bad. What I really liked was how much it frothed up. It almost seemed like the bubbles crackled! Didn't dry out my skin either.
Toothpaste - Aaron reports that it has a fresh taste and left his teeth feeling smooth and clean.
Overall I liked everything I tried and I really like their green and sustainable features!
Proxi on Twitter - @PROXIproducts