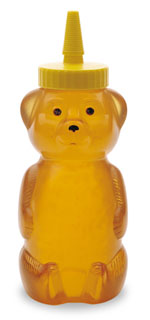 Last winter I didn't get a ticket for BlogHer. Now, BlogHer has rolled around and it turns out I will be in NYC during the conference. Tickets have been sold out for ages. Even being a Chief Blogger couldn't get me a ticket, which is only fair, really, to those on the BlogHer waiting list. So I posted to a ticket swap looking for someone that didn't need theirs. I was thrilled when the National Honey Board offered me a ticket they had!
Really I couldn't believe of all groups, the one to contact me was one affiliated with honey. Longtime readers know I LOVE HONEY. I like putting it on my pizza, in my tea and when I had a killer sore throat this winter it's the only thing that made it feel better.
I am so excited to go to BlogHer and I am also excited to learn more about honey. It's peach season and they have a recipe for Honey Packed Peaches.
And look at all these beverages with honey in them! I want to try the Horchata and Limeade.
Tina would pass out at the first one but there are even wallpapers available for download at the honey website.
If you will be at BlogHer and you see me be sure to say hi! I'll be the one in the bee costume. Kidding!