Despite appearances Bootsie does not have laser eyes.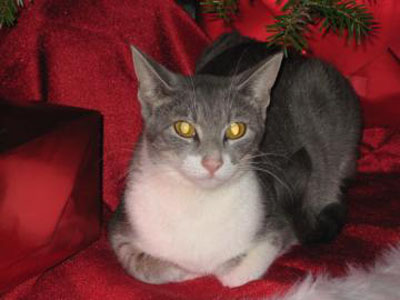 Bootsie is a 1.5-year old Siamese mix, who weighs 9 pounds. She came to came to Lollypop Farm because her owner's landlord would not allow her to stay. She was pregnant when she arrived, and spent time in foster care with her 4 kittens. This wonderful mother is ready for a little pampering and a home of her own! Bootsie is very calm and likes to hang out at your side. She may be a little apprehensive when you first meet, but once she gets to know you, she enjoys being pet and scratched under the chin. Bootsie can be vocal at times, and she'll let you know when she's hungry! She loves treats. Come meet Bootsie, this sweetie will make a wonderful companion.
Lola, the dog from last week, is still waiting to be adopted.