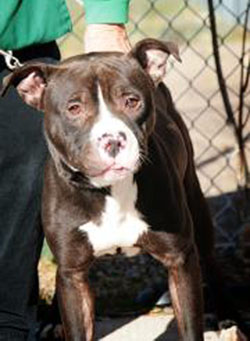 Love his spotty nose!
Meet Billy, a super sweet 2-year-old Terrier/Pit Bull mix. He was brought to Lollypop Farm because his owner was having personal problems that left her unable to care for a dog any longer. He weighs a solid 40 pounds – and has a strong personality to match! He knows "sit" and takes treats very gently. Consistent training and positive reinforcement will help him improve all of his doggie manners. Due to the fact that he gets pretty excited when playing, he needs to go to a home with children over the age of 12. This dog with the spotted nose has been waiting to find a family to call his own since November, so how about coming out to meet him? Bring the entire family, dogs included, and see if he just might be the right boy for you!
Bootsie, the cat from last week, was adopted!