For fun you could call him Wedgie. Heh. I like his Batman mask.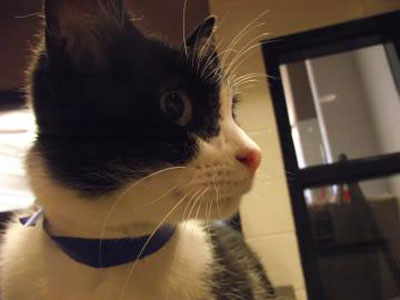 Wedge is a 5-year-old male black and white cat who has been waiting too long for a new home. He came to Lollypop Farm in May, because his family was moving and could not bring him along. Wedge is a mellow boy who enjoys lots of attention. He has been trained to use a scratching post! This sweet boy lived with children in his previous home and enjoyed their company. He has been living in the cattery and gets along well with other cats, but he's a bit cautious when it comes to dogs. Wedge is one of our Featured Felines: Cattery Cats. Now through Friday (8/19), you can adopt him for just $35, or any other cat, 5 months or older, who is living in the cattery! Come out and meet Wedge…you won't be disappointed!
Hobie, the dog from last week was adopted!