Odie! I loved Garfield's sidekick Odie. This guy looks like sneef sneef sneefer.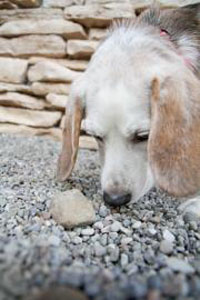 Odie is a 10-year-old male Beagle mix who weighs 30 pounds. He was brought to Lollypop Farm because his owners could no longer take care of him. When Odie's in his kennel he has lots to say, but once he's out for a walk he's all Beagle, nose to the ground checking out all the wonderful smells! Odie would be happiest in a home without young children due to his age, and he needs to meet any dogs in your home just to be certain everyone will get along. This handsome gentleman is available in the Seniors-for-Seniors program, so adopters age 60 and older can take him home free of charge! Odie is looking for a nice, quiet home where he can spend his golden years. Are you the person he's waiting for? Come and meet Odie today!
Lucy, the cat from last week is still waiting to be adopted.