Tuxedo cat! Always dressed for the occasion!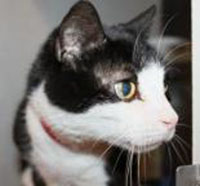 Meet Cinderella, a beautiful 6-year-old female cat with a soft black and white tuxedo fur coat. Cinderella was found as a stray and brought to Lollypop Farm for a second chance. She's a little sad in her cage and can't wait to have a new home where she can run and play! She loves attention and will snuggle in close to get hugs and kisses! She has a great motor and purrs up a storm to let you know she's a happy girl. This little lady is available in the Seniors-for-Seniors program, so adopters age 60 and older can take her home free of charge. If you are looking for an affectionate companion and one awesome cat, Cinderella might be the one for the job. She's an absolute sweetheart and can't wait to meet you!
Pickles, the dog from last week was adopted!