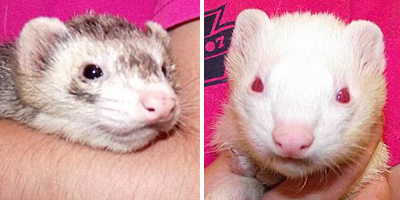 It's a ferret two-fer!
Tipper and Maddy #16308882 and #16321016
These two ferrets are a bonded pair and we would like to see them go home together. Tipper is an all white 3 year old male and Maddy is a 4 year old grey and white male. They were farm animal favorites and were great with having the kids handle them These best buds are available as a 2 for 1 adoption. In other words, adopters would get to take both animals home but only pay the fee for a single ferret adoption. Come on down to Lollypop Farm to meet these friendly guys!