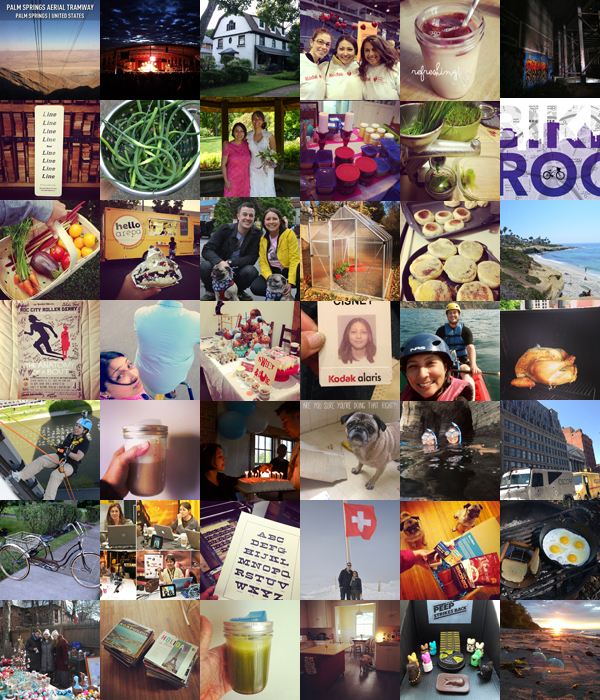 We had a soup swap.
I went to Palm Springs
We explored Rochester Subway.
I juiced a lot.
My sister got married.
We grew and juiced wheatgrass.
We went camping and ate like kings.
I turned 40.
We rode our tandem bike and I got a trike.
We grilled a turkey.
I baked english muffins and started a #latenightbaking trend
We ate at food trucks in downtown Rochester.
I walked for heart health with my peeps.
I down rappeled down 21 stories.
We had a summer CSA veggie share and canned things like garlic scapes.
I discovered the joys of iced coffee.
We walked in the Fast & Furriest for raise money for RAS & I did the social media & sat on the board for VSAS.
I made a scene from Empire Strikes Back with marshmallow peeps.
We got a pretty good harvest from our veggie garden.
Oscar and Hugo enjoyed a monthly bark box.
We saw Spiderman being filmed in downtown Rochester.
I made a poster for Spokes & Ink and served on the Genesee Center for the Arts & Ed board.
I added new vinyl to my collection
I took a letterpress class and printed cool stuff.
We watched the sunset on the beach and blew bubbles
I designed a poster for the Roc City Roller Derby.
Aaron built me a greenhouse.
We went to San Diego where we sea kayaked and cave snorkeled.
I celebrated 15 years with Kodak. Then our division was sold.
I sold crafts at two shows with my two best peeps.
We saw the Lumineers and Fun in concert.
I was a little obsessed with jars and cuppow.
We went to Switzerland were we went to the top of the Swiss Alps.
We painted the house and put in a new kitchen floor.