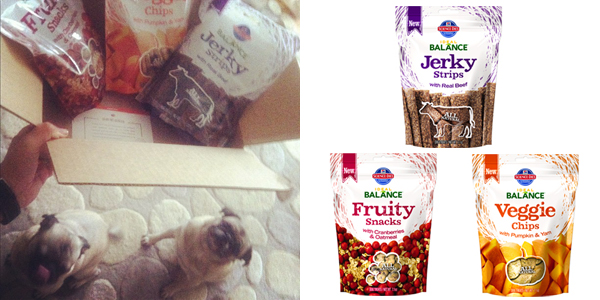 I was really excited to get a Klout Perk that was for the pugs! They were shipped three bags of Hill's Science Diet Ideal Balance Dog Treats. As you can see Hugo was smacking his chops at the mere thought of sampling these treats.
Hill's sent three kinds of treats. I knew they would tear into the beef jerky strips but wasn't sure about the veggie ones - Cranberry & Oatmeal and Pumpkin & Yam. Hugo made short work off all of them without blinking but Oscar snubbed the veggie ones at first. Then he saw Hugo chomping away he decided to make a go of them and then became a fan.
All the treats were a nice size and felt substantial. If a treat is small these two have a tendency to gulp them down, so I liked these. They had to carry they off and chew on them a bit.
When you have pugs you expect to have to dole out a lot of treats. I like that these are all natural, with no corn, artificial colors or flavors. They also have lots of vitamins, minerals and phytonutrients. Everything a growing pug needs.