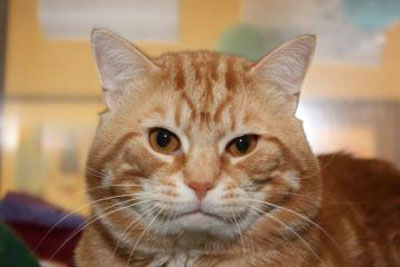 I can almost make out a W on his forehead!
Willie #12085212
Willie is a six-year-old male Domestic shorthair mix who was brought to Lollypop Farm by our law enforcement officers as part of a cruelty investigation in Riga, New York. Finally, after one long year, Willie is able to be put up for adoption. He is looking for a nice, warm forever home where he can purr and play. This handsome feline was so happy to be reunited with his friend, Lucky (#12085128), who he now shares a kitty condo with. Willie enjoys amusing Lucky with his playful antics and curling up with him when it's time for a nap. These wonderful cats are available as a "two-for-the-price-of-one" special adoption fee, as they are great companions. In addition, they are eligible for Lollypop Farm's Seniors-for-Seniors program. An approved adopter, age 60 or older, can bring them home at no charge! Come and meet them today!
Spencer, the dog from last week, is still looking for a home.